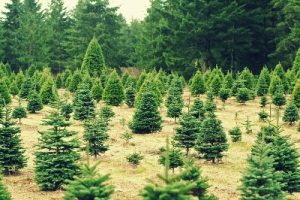 Statewide—An artificial tree, on average, is used for 7 years before it is disposed. So if a tree is displayed for 1 month per year, it will have served as a Christmas tree a total of 7 months while remaining in a landfill indefinitely. Even if it were to be used for 20 holiday seasons, it's still going to end up in a landfill far longer.
Live Christmas trees, however, are both a renewable and biodegradable natural resource. On average it takes about 7 years to raise a Christmas tree to marketable size. During that time, it is absorbing carbon dioxide and filtering the air of particulate matter and releasing oxygen. Live Christmas trees are also providing watershed protection and excellent habitat for songbirds and other wildlife.
Learn more about the live trees, how to select them and how to keep a live tree fresh and safe, click here.