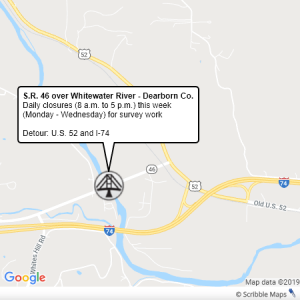 Dearborn County, IN— The S.R. 46 bridge over the Whitewater River in Dearborn County is scheduled to close daily this week for survey work in preparation for a $4.5 million bridge rehabilitation project scheduled to let in August 2022.
Daily closures began this morning at 8 a.m. and will continue through Wednesday, Dec. 11, weather permitting. The bridge will reopen by 5 p.m. each day.
The state detour routes for the closure are U.S. 52 and I-74.