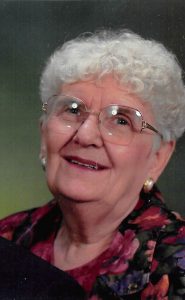 Betty A. Young, 88, passed away on Saturday, December 7, 2019 at Morning Breeze Nursing Home.
Born, April 15, 1931 in Oldenburg, she was the daughter of Mathias A. "Matt" and Cleopha C. (Bedel) Werner.
Betty was a homemaker.  She was most known for her baking and sewing.  She had worked for Decatur County Memorial Hospital, Margaret Mary Hospital, the Sherman House, and most recently Wal-Mart.
She was a member of St. Mary's Catholic Church in Greensburg.
She was married to Albert E. Young on September 16, 1950 and he preceded her in death on June 6, 2007.
Betty is survived by 5 sons; Lawrence (Delores) Young, Edward (Cindy) Young, Anthony Young, Mark (Lorie) Young, Francis (Diana) Young, all of Greensburg, 3 daughters; Ruth (Larry) Rudolf, Mooresville, Mary Jane Scheidler, Greensburg, Esther (Larry) Lamport, Greenfield, 4 brothers; Virgil Werner, Kenny Werner, Uriel "Huey" Werner, Charles Werner, 9 sisters; Sr. Cleopha Werner, Theresa (Jim) Nobbe, Dodie (John) Amberger, Mary (Ray) Merkel, Marty (James) Doll, Regina Lowe, Rita (Francis) Meyer, Carol Schwegman, Ellie (Albert) Amberger, 16 grandchildren, and 30 great grandchildren.
She was preceded in death by her parents, husband; Albert Young, son; Harry Young, 2 brothers; Albert Werner, and Jake Werner, sister; Lorene Loretta Brancamp, and 2 granddaughters; Kayla and Ladon Young.
Visitation will be held from 4-8:00 p.m. Friday, December 13, 2019 at Porter-Oliger-Pearson Funeral Home in Greensburg with a rosary service starting at 7:30 p.m.
Funeral Services will be held at 9:00 a.m. on Saturday, December 14, 2019 at St. Mary's Catholic Church in Greensburg with Rev. John Meyer officiating.
Burial will follow at St. Mary's Catholic Cemetery in Greensburg, Indiana.
Memorials can be made to St. Mary's Church or to have a Mass in Betty's honor.
Online condolences can be made to the family at www.popfuneralhome.com