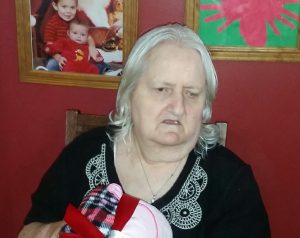 Rita Jean Marquardt, age 74 passed away on Saturday, December 7, 2019 at Decatur County Hospital in Greensburg, Indiana. She was born April 16, 1945 in Rush County. Her parents were the late Charles and Rosemary Whittaker Wilder. Rita married Roger Carl Marquardt and he preceded her in death.
Survivors include her stepmother Ruth Wilder of Shelbyville, daughters, Rose Marie Powers, Rita May Palmer, Karen Kay Palmer all 3 of Shelbyville, Peggy Lynn (Toby) Timberlake of Osgood and stepdaughter Katrina McIntosh of Dearborn County. Other survivors include 1 stepson, Roger Marquardt of Napoleon, 1 sister, Clara Thomas of Shelbyville, 2 brothers, Charles (Fran) Wilder of Shelbyville and Matthew Wilder of Rushville.
11 Grandchildren: Anthony (Crystal) Popp, Christopher McIntosh, Crystal (Coty) Horn, Chad Wilder, Christina Powers, Joseph Powers, Billie Jean (Chris) Fisher, James (Carla) Hendricks, Jacob Timberlake, Terry (Talisa) Timberlake and Jessica (Travis) Koch.
Twenty great grandchildren survive. She was preceded in death by sisters Rebecca Griffith and Karen Clark and brother James Wilder and stepson Paul Marquardt.
Visitation will be held Tuesday evening, December 10, 2019 from 4:00 pm until 7:00 pm with the funeral being Wednesday, December 11, 2019 at 11:00 am both at Neal's Funeral Home. Burial will be at St. John's Lutheran Cemetery, Napoleon. Memorials may go to St. John's Lutheran Cemetery in care of the funeral home. www.nealsfuneralhome.net