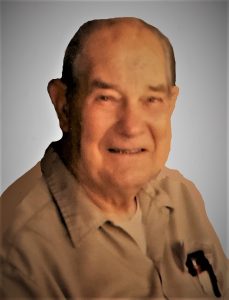 Louis B. "Lou" Schipper Jr., 93, of Aurora, IN, passed away Saturday December 7, 2019 in Cincinnati, Ohio.
He was born September 4, 1926 in Lawrenceburg, IN, son of the late Louis B. Schipper Sr. and Philomena (Englert) Schipper. He served his country as a Navy Seabee during WWII. He worked as a Electrician for Seagram's, retiring after over 16 years of service. Prior to Seagram's, Lou worked at CG&E and Lawrenceburg Utilities. He was a member of St Mary's Catholic Church. Lou received his high school diploma from St. Xavier High School, when he was in his 90's. He enjoyed woodworking, and liked rebuilding cars, especially restoring Model T's. He built wooden bodies (depot Hack) for Model T's, he also made cedar chests, benches, and a chicken coop. Lou rescued animals for 26 years. He loved the outdoors, Westerns, and was a history buff. Lou was instrumental in the development of the Indian Ridge Subdivision.
Louis is survived by his loving spouse of 62 years, Dorothy "Dottie" (Banks) Schipper; sons, Louis B (Cheryl) Schipper III of Livermore, CA, and Father William Carl Schipper of Boston, MA; sister, Loretta Louise Henry of Rotonda West, FL; grandchildren, Louis B Schipper, IV of CA, Gretchen (David) Woody of New Braunfels, TX; niece, Gaye Lynn Hall of Aurora, IN; nephew, Jason Walston.
He was preceded in death by his parents, Louis B Schipper, Sr., and Philomena Marie (Englert) Schipper; sister, Ida Mae Sawyer; brother, George Schipper.
Friends will be received Wednesday, December 11, 2019, 9:00 am – 10:45 am at Rullman Hunger Funeral Home, 219 Mechanic Street, Aurora, Indiana.
Mass of Christian Burial will be held at St. Mary's Catholic Church, 203 Fourth Street, Wednesday December 11, 2019 at 11:00 am with Fr. Ben Sybert officiating.
Interment will follow in the River View Cemetery, Aurora, Indiana. Military graveside services will be conducted by members of local Veterans Service Organizations.
Contributions may be made to the PAWS or Crossroad Hospice of Cincinnati. If unable to attend services, please call the funeral home office at (812) 926-1450 and we will notify the family of your donation with a card.
Visit: www.rullmans.com