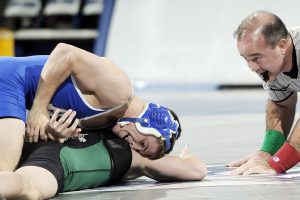 Batesville Wrestling competed in their first dual tournament of the season traveling to Milan to battle 5 other teams including 2 EIAC opponents and 2 section opponents. Despite a strong individual effort the team went 0-5 but picked up one individual weight-class champion.
Batesville started the day against a strong Adams Central team who made their debut in the meet. Aaron Norman started things out at 195 to win his second straight pin. Freshman Daniel Richey would receive a forfeit at 285. Alex Murphy would make his season debut wrestling at 113 with a pin. Tyler Shaeffer picked of a victory at 132 with a high scoring 19-14 decision. JT Linkel won by pin to get his 3rd win of the season. Jy'lil Chappel would get a forfeit at 182 in their final victory in a 43-33 loss to the #3 ranked 1A team in the state.
Next up was county rivals Milan. Brandon Manning started the dual with a pin at 220. Batesville wouldn't get another victory until JT won with a pinfall. The bulldogs would then get 3 more victories with Josh Mobley and Axel Garcia would get forfeits at 152 and 170 respectfully with Nick Nobbe getting a pinfall in the middle at 160. The Bulldogs would fall to Milan 54-30.
Batesville's 3rd dual was against EIAC opponent Lawrenceburg. The Bulldogs had a tough battle with the eventual tournament winners only winning 3 matches. Alex Murphy received a forfeit at 113. Tyler Schaeffer won by pin at 132 while Josh Mobley got a 7-1 victory at 152 as the bulldogs lost 60-15.
The Bulldogs would get there most heartbreaking lost Union County losing a tiebreaker. The Bulldogs won 6 out of 11 matches but lost on the tiebreaker based on who gave up the least amount of forfeits. Alex Murphy, Caleb Bischoff-Niese, Tyler Schaeffer, JT Linkel, Josh Mobley and Axel Garcia all won by pin. The score before the tiebreaker was 36-36.
The Bulldogs would finish things with a strong performance again Rushville. With the bulldogs losing the forfeit battle 2-3 they were able to win 5 out of 9 of the matches wrestled. Alex Murphy, Tyler Schaeffer, Josh Mobley, and Nick Nobbe won by pin. JT Linkel also won with a 17-2 Tech fall. Despite the effort the bulldogs lost 42-41.
Alex Murphy was the lone Bulldog to win his weight class with a 4-1 record. Tyler Schaeffer, JT Linkel, Josh Mobley also went 4-1. Axel Garcia finished 3-2.
The Bulldogs will next travel to Rushville next Saturday.
Dual Scores
Adams Central 43 Batesville 33
Milan 54 Batesville 30
Lawrenceburg 60 Batesville 15
Union County 37* Batesville 36 on criteria
Rushville 42 Batesville 41
Courtesy of Bulldogs Coach Curtis Miller.