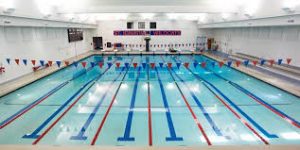 The Batesville High School Men's and Women's swimming teams traveled to Madison to participate in the Madison Small School Invitational on Saturday morning. Silver Creek and North Harrison rounded out the participating teams.
TEAM SCORES
Men
Madison 387
Batesville Bulldogs 275
North Harrison 207
Silver Creek 111
Women
North Harrison 315
Madison 301
Batesville Bulldogs 261
Silver Creek 125
BULLDOG WINNERS
Men
Ethan Brewer — 100 Fly (59.
Women
Gwen Martin — 50 Free (28.94)
Maria Lopez — 100 Fly (1:11.65)
Sonja Gaulin — 100 Free (1:04.77)
NOTABLES
The Women's 200 Free Relay placed first (Lopez, Gaulin, Wonnel, Martin)
Second place finishers were Lopez (200 IM), Gaulin (200 Free), Johnson (100 Free, 100 Back), Martin (500 Free), Callahan (500 Free), Moster (100 BR)
UP NEXT
The Batesville Bulldogs swim team will be visiting Shelbyville for a Relay-Only Invitational on Dec. 14.
Results will be available online here: https://www.swimcloud.com/results/168250/ <https://www.swimcloud.com/results/168250/>
Courtesy of Bulldogs Coach Greg McMullen.