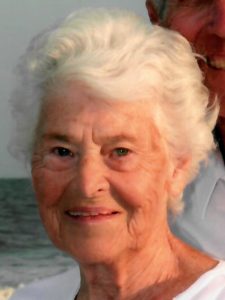 Shirley M. Korb, 88, of Milan passed away Saturday, December 7, 2019 at her residence with family by her side.  Shirley was born Wednesday, January 21, 1931 in Cincinnati, Ohio, the daughter of the late Joseph and Wilma (Brickner) Engel.  She married Paul Korb May 14, 1955 and he survives.  Shirley was a homemaker and a member of St. Charles Catholic Church.  She enjoyed gardening; reading, especially historical, current events and politics; cooking and baking.  She also enjoyed traveling; going to Myrtle Beach; trips out west; and spending time with family.
Shirley is survived by her husband of 64 years Paul of Milan; sons: Steven (Mary) Korb of Richmond, Virginia and Tom (Lynne) of Cincinnati, Ohio; daughter Nancy (Bill) Griffiths of New Richmond, Ohio; grandchildren: Amanda Korb, Gregory Korb, Nick Hyde (Violet), Andrew Korb, Elizabeth Korb, Jeffrey Griffiths, Claire Griffiths, Shannon Hughes, Seth Hentman and Shane Clark; and great-grandchildren Rowan and Raelyn.  She was preceded in death by her parents; two brothers Leonard and Joe Engel; four sisters: Vivian Bloemker, Audrey Engel, Vera Wehmann and Bernice Lobitz; and Jessie (the perfect dog).
A funeral mass of resurrection will be held 11 AM Wednesday, December 11 at St. Charles Catholic Church, 201 W Ripley Street, Milan, IN 47031.  Burial will follow in Maple Grove Cemetery, Cleves, Ohio.  Family and friends may gather to share and remember her 10-11 AM Wednesday also at the church.  Memorials may be given in honor of Shirley to Ripley County Humane Society.  Laws-Carr-Moore Funeral Home entrusted with arrangements, Box 243, Milan, IN 47031, (812)654-2141.  You may go to www.lawscarrmoore.com to leave an online condolence message for the family.