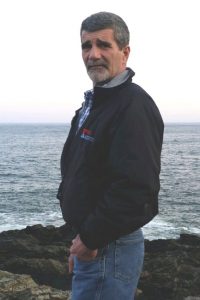 Denver Kevin Inman, age 57, of Shelbyville, Indiana, passed away on December 3, 2019. Denver was born June 18, 1962 in Hamilton, Ohio the son of Kermit and Rosemary Brock Inman. He was a master carpenter. In 1984, he met his soulmate Sherry Diane Peterson and he married her on March 22, 1992 in Gatlinburg, Tennessee. Denver was an outdoorsy man he loved hunting ginseng and mushrooms and he was an amazing fisherman.  He loved to travel and was very proud about having been to 44 states.  He was a gifted athlete in track and loved to watch the Colts play.  He also loved to draw.
Denver is survived by his: daughter, Nicole (Chris) Baier; son, Dustan Inman; and daughters, Carrie (Ryan) Owens and Natasha (Rob) Dietrich; grandchildren, Austen Owens, Zander Owens,  Ashton Owens, Athena Mitchell, Anthony Mitchell, Azaria Dietrich, Savannah Dietrich, Malaki Powers, Ziva Dietrich, Alex Mitchell, Kaydan Marshall, Mackenzie Inman and Kayla Baier; brothers, Kurt (Joyce) Inman, Brian Inman, and Kenneth (Vanessa) Inman; sisters, Latisha (Joel) Moore and Kim (Dudley) Paul. Denver was preceded in death by; wife, Sherry Inman; father, Kermit Inman; mother, Rosemary Inman; grandparents, Alvin and Thelma Brock and Kenneth and Daisy Inman.
A visitation for family and friends will be held at the Gilliland-Howe Funeral Home on Saturday, December 7, 2019 from 2:30 pm until the time of the Funeral services at 4:30 pm. Burial will be at a later date at the Rossburg Cemetery in New Point, Indiana.
Contributions in Denver's memory may be made to the family. Fond memories and expressions of sympathy may be shared at www.gilliland-howe.com for the Inman family.