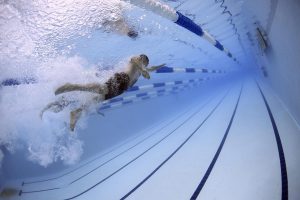 The Batesville High School Men's and Women's swimming teams competed in double-dual action against Centerville High School and Seton Catholic (Richmond).
"Both of our teams have come together extremely well," said third-year head coach Greg McMullen. "While we're only in the early stages of training and our competition schedule we've got an incredible season to look forward to."
TEAM SCORES
Men
Batesville Bulldogs 126, Centerville High School 44
Batesville Bulldogs 121, Seton Catholic High School 16
Women
Centerville High School 94, Batesville Bulldogs 73
Batesville Bulldogs 93, Seton Catholic High School 35
BULLDOG WINNERS
Men (Overall Event Winners)
Ethan Brewer — 200 Free (2:08.77);
Sean Callahan — 200 IM (2:20.85); 500 Free (5:48.08)
Ciaran Tyrer — 50 Free (26.43); 100 Fly (1:06.48)
Quinn Rasnick — 100 Free (1:01.23)
Benjamin Moster — 100 Breast (1:10.19)
Women (Overall Event Winners)
Gwen Martin, 200 Free (2:23.87); 500 Free (6:37.68)
NOTABLES
Gwen Martin, Ciaran Tyrer and Sean Callahan led the way winning both individual events. Callahan also lead-off the winning 200 and 400 Freestyle relays.

BHS placed first in 5 of the 6 relays.
UP NEXT
The Batesville Bulldogs will be visiting Madison for the Madison Small School Invitational against opponents Madison, Silver Creek and North Harrison high schools on Dec. 7 at the Madison Junior High School in Madison.