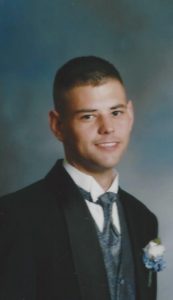 Adam Lee Roudebush, age 40 of Harrison, Ohio passed away Wednesday, December 4, 2019 at Good Samaritan Hospital in Cincinnati, Ohio. Born December 3, 1979 in Cincinnati, Ohio the son of Mark and Robbin (Engle) Roudebush.
Adam graduated of William Henry Harrison High School in 1998.
Adam is survived by his Parents, Mark and Robbin Roudebush. Father of Alex, Claire and Landon. Brother of Christian (Kelly) Roudebush, uncle of Morgan and Brooke Roudebush and nephew of Sally Wind, Joy (Don) Brock and Karen (Walter) Schunk.
Preceded in death by his maternal grandparents Barbara Engle Day and Woodrow Wilson Engle, paternal grandparents Markland and Mary Roudebush and uncle Woodrow Wilson "Chip" Engle Jr.
Visitation will be held Saturday, December 7, 2019 from 11:00 A.M. until time of funeral service at 1:00 P.M. all at Jackman Hensley Funeral Home 215 Broadway Street Harrison, Ohio 45030 with Pastor Shawn Crisman officiating.
Memorials may be directed to American Diabetes Association c/o Jackman Hensley Funeral Home.