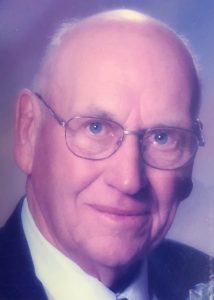 Marvin Henry Cutter, age 95, of Dillsboro, Indiana passed away at HighPoint Health, Lawrenceburg, Indiana, on Tuesday, December 3, 2019 with his loving family by his side.  He was born Sunday, March 16, 1924 to William F. Cutter and Flora Marie (Vornheder) Cutter in Cass Township, Ohio County, Indiana, on Downey Ridge in a log cabin.  He attended Downey School, Claybank School and graduated from Rising Sun High School in 1942.  He served his country proudly during World War II in the US Navy from June 1945 until August 1946.
Marvin was a lifelong member of St. Peter's Lutheran Church, Bear Branch, Indiana.  He was baptized and confirmed there and on October 25, 1947 married Helen Lena Knigga.  They lived on a dairy farm in Dillsboro, where they raised their 4 sons Gary, Eldon, Ivan and Daryl and daughter Rita Ann.  Marvin was President, Treasurer, Secretary and Trustee at St. Peter's Church for many years.  Marvin and Helen were married for 63 years before her passing on May 26, 2011.  In addition to farming, Marvin worked for Farm Bureau Co-op for 10 years and Schenley Distillery for 32 years.  He was a member of the Northcutt Laaker American Legion for 66 years, Indiana Farm Bureau, 4-H Leader, and a Southeastern Indiana REMC Director for 36 years.
Marvin is survived by sons Gary (Karen) of Taylors, S.C., Eldon of Batesville, Indiana, Ivan (Rita), Daryl (Sherri) and daughter Rita Ann (Floyd) Stevens, all of Dillsboro, Indiana, 15 grandchildren, 28 great grandchildren and two step-great grandchildren.  Marvin is also survived by one sister-in-law Lucille Combs and many nieces, nephews and cousins.  He was preceded in death by his parents, wife Helen, daughter-in-law Rachel (Eldon's wife), and brothers and sisters Norman Cutter, Eleanor Selmeyer, Raymond Cutter, Anita Cutter and Marjorie Meyer.
A service celebrating his life will be held 11 AM Saturday, December 7, 2019 at St. Peter's Lutheran Church, 3958 Bear Branch Road, Dillsboro, Indiana 47018 with Pastor Larry Knigga officiating.  Burial will follow in Marker-Althoff Cemetery with full military rites provided by Northcutt Laaker Post #292 of Dillsboro.  Family and friends may gather to share and remember him 4-7 PM Friday, December 6 at Filter-DeVries-Moore Funeral Home in Dillsboro and 10-11 AM before service on Saturday.  Memorials may be given in honor of Marvin to St. Peter's Lutheran Church Cemetery Fund or Alzheimer Fund.  Filter-DeVries-Moore Funeral Home entrusted with arrangements, 12887 Lenover Street, Box 146, Dillsboro, Indiana 47018, (812)432-5480.  You may go to www.filterdevriesmoore.com to leave an online condolence message for the family.