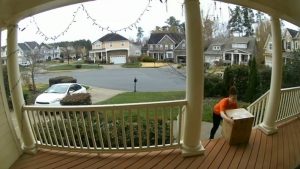 Black Friday and Cyber Monday just wrapped up and there is a good chance you are expecting a package to arrive at your doorstep in the next few days. While online shopping is convenient, that convenience is lost when porch pirates and grinches decided to steal.
Despite technology making it easier to monitor packages, porch pirates are still busy grabbing packages despite the risk of being seen on camera.
Track Your Packages and Use Delivery Alerts
If you order from multiple sites, keep a list of all your tracking numbers so you don't have to look through countless shipping confirmation emails when you want to track your orders and know the schedule of delivery
Choose Packaging That Conceals What's in the Box, if Available
If you shop on Amazon, When you're checking out, choose the option to "ship in Amazon packaging," which doesn't cost extra.
Get a Video Doorbell
Smart devices, like the Ring Video Doorbell, let you answer your door and protect your packages no matter where you are. The app alerts you when the doorbell's sensors detect motion, like packages being delivered or when someone presses the call button. And, with two-way talk, you can chat with the delivery person and ask them to place your packages in a more hidden area or yell at the potential thief that the authorities are on the way.
Add Delivery Instructions
When ordering packages online, if possible, add delivery instructions that let the driver know to place the package in a safer spot that's out of view.
Also, CVS now offers package pick-up and drop off at select locations with UPS.
Here's how pickup works; track your package to make sure it's arrived at the store and then when you arrive to pick it up, request your package, and show a valid, government-issued ID. CVS will hold your package up to seven days so you can visit when it's convenient.
Here's how UPS drop-off works; seal and attach a prepaid label to your package at home, find a CVS location that accepts UPS packages, and leave your package with a CVS associate. UPS will pick up packages within 24 hours. You can track delivery through UPS.