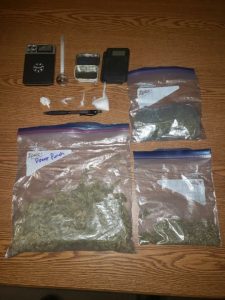 North Vernon, IN—Friday evening Jennings County Sherriff Deputies responded to a local business after employees located a glass smoking device commonly used to smoke Methamphetamine. The pipe was inside of a box for a cell phone that a male subject was attempting to return to the store. Deputies made contact with the male subject, Marvin Cumberworth, 50, of North Vernon. Cumberworth admitted to the deputies that he did have Meth on his person. The Methamphetamine was located and Cumberworth was arrested and transported to the Jennings County Jail.
Upon arrival at the jail, a larger amount of Methamphetamine was located on Cumberworth's person. Further investigation led to his home in Campbell Township.
Deputies located approximately 8 grams of Methamphetamine and 180 grams of Marijuana in the residence. Deputies also made contact with James Earl, 40, of North Vernon, who was also in the residence and located Methamphetamine on his person. James Earl was also taken into custody. Mr. Cumberworth advised Deputies that he sells Methamphetamine and Marijuana to supplement his income.
Marvin Cumberworth was charged with allegations of Dealing Methamphetamine, Possession of Marijuana, and Maintaining a Common Nuisance.
James Earl was charged with allegations of Possession of Methamphetamine, Possession of Paraphernalia, and Visiting a Common Nuisance.