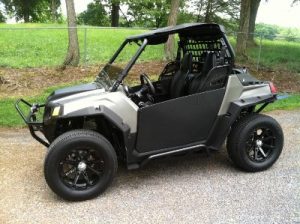 Greensburg, IN —At last night's Greensburg City Council meeting, the Council passed two new ordinances in their first reading. One ordinance will make shooting certain fireworks illegal with the exception of the week of 4th of July and News years Day unless permission is granted by the Greensburg City Police Department.
The other ordinance will allow UTV's to drive on City roads if over the age of 18 with a valid driver's license. A consequence of this ordinance will make it illegal to drive vehicles such as golf carts and lawnmowers on City streets.
Registration will require a sticker permit that can be obtained for a fee at the Greensburg Police Department, require an inspection, and requires state registration with Indiana Bureau of Motor Vehicle (BMV) license branches prior to City registration.
Registration decals must be attached to both sides of the forward half of the vehicle.
No proof of insurance is required to register an ORV to be road legal in the County currently according to the State's guide for ORVs but will be required to register to drive in the City limits according to Chief Brendan Bridges.
The ordinance does not currently require helmets to be worn at any age but could be adjusted before the second reading as State law that began on July 1, 2017requires all children under 18 years old will be required to wear a helmet on or in any Off-Road Vehicle (ORV). This applies to all ORVs, including but not limited to ATVs, UTV, side-by-side vehicles, and dirt bikes.