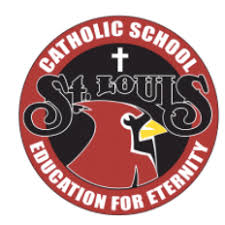 The 7th Grade SLS Boys Basketball team took on the Knights from South Dearborn on Monday, December 2nd. The Cardinals were able to get off to a good start during the first quarter of their best start of the year. Turnovers caught up with them in the 2nd quarter and the Cardinals ended up losing by a score of 46 to 13. Sam Laloge played a really nice game scoring 8 points to go along with 6 rebounds and 2 steals. Adam Meer also played a good game with 3 points, 7 rebounds, 2 assists, and 2 steals. The boys continue to show improvement as well as they fight to end regardless of the score. The boys are back in action on Tuesday, December 3rd against St. Michael's.
Courtesy of Cardinals Coach Ryan Tekulve.
St. Louis lost another close one to South Dearborn 41 to 36. The Cardinals fought back from a 9 point first-quarter deficit to pull within 1 point in the 4th quarter but fell short in the final seconds. Connor Miles scored 20 followed by Hank Ritter with 12. Preston Conway and Calvin Grote each had 2 and Carson Meyer pulled down 9 rebounds. The now 5 and 5 Cardinals travel to St. Michael's on Tuesday and finishes this week with a home game against Franklin County this Thursday.
Courtesy of Cardinals Coach Chad Miles with Jenny Miles.
The 6th SLS Boys team traveled to Laurel last night for a great game. We won with a score of 60-18 having every player once again score a basket for us. Points fell for Jaiden Kuria with 16 pts, Caleb Mohr 14 pts, Ty Reder 10 pts, Jack Freeland and Ben Greiwe both with 6 pts each, and Vincent Meneses, Brycen Miller, Noah Livers, and Sam Richardson all giving the team 2 pts. This was a great effort by all and so fun to coach. Come support us on Saturday here at SLS for our 5/6th Invitational.
Courtesy of Cardinals Coach Erin Trenkamp.