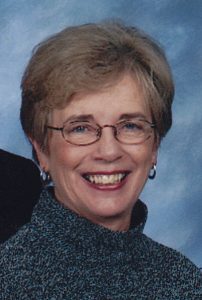 Judith Ann Horton Wilke of Greensburg, IN passed away on November 29, 2019.  She was born in New Castle, IN on October 17, 1943 to F. Walter Horton and Thelma Harrold Horton.  She graduated from Greensburg High School in 1963 and married Warren Michael Wilke in 1965.
Judy received her RN degree from Methodist Hospital School of Nursing in Indianapolis, IN in 1964.  She was employed by Methodist Hospital as a surgical nurse, and later employed as a surgical nurse for a private surgeon.  She was the Decatur County Public Health Nurse for 20 years, retiring in December 2006.
Judy was a member of the Greensburg United Methodist Church.  She served as piano accompanist for the church choir for over 20 years, a member of the bell choir, director of the children's choir, and member of Suzanna Circle.
She was a past member of Tri Kappa Sorority and Friends of The Library.  She is survived by her husband, daughter Susan (Robert) Steiner of Goldsboro, North Carolina, son Michael A. Wilke of Fishers, IN, Grandchildren Jacob, Hannah, and Abigail Wiser, Jack, Cooper, and Clayton Wilke, Ricky, Cole and Lance Steiner, and several nieces and nephews.  She was preceded in death by her parents and infant sister, Barbara.
Visitation will be held from 2pm – 7pm on Friday, December 6 at Gilliland-Howe Funeral Home in Greensburg.  A funeral service will be held at 10:30am on Saturday, December 7 at the Greensburg United Methodist Church. Memorial contributions can be made to the Greensburg United Methodist Church.  Online condolences may be made to the family at www.gilliland-howe.com.