Napoleon, IN—Are you like me and have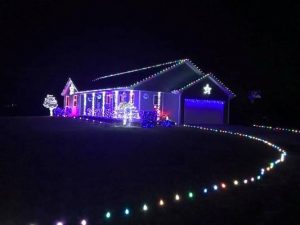 fond Christmas memories driving around in December with your parents (whether forced or willingly), looking at all the Christmas lights, and listening to mom sing along to her favorite Christmas carols on the radio.
Well, The Napoleon State Bank is excited to present the 2019 Ripley/Decatur County Christmas Light Map. The map was created to promote this fun, family tradition in our own community. They complied several known great locations in the area and did some research to find more to add to the list. The map covers a variety of destinations for the Holiday season – from tree farms and live Nativities, to epic Christmas light displays and where to see Santa. They even went a step further to give this tradition a fun, new twist, 3D viewing glasses! When you put these on and look at Christmas lights, magical holiday shapes appear at each point of light you look at!
They would like to invite anyone to stop into your local NSB branch and pick up your Christmas Light Map and viewing glasses while supplies last, then head out on your own family adventure!