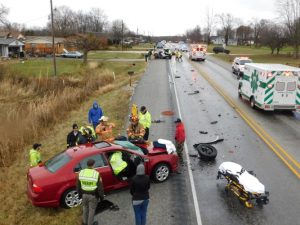 Columbus, IN—Sunday afternoon Bartholomew County Sheriff's Department responded to a personal injury crash at State Road 46 and County Road 825 E.
On arrival, the officer located vehicles driven by Corrine E Busemeyer, 21, Columbus and Martha L. Muckerheide, 74, Greensburg. Busemeyer was briefly trapped inside her vehicle but was freed by Columbus Fire Department Squad 2 and Hartsville Volunteer Fire Department.
A witness reported that Muckerheide's vehicle crossed the centerline into the westbound lane, striking Busemeyer's vehicle head one.
Busemeyer had non-life-threatening injuries. Muckerheide was transported to Greensburg Hospital with what appeared to be non-life threatening injuries.
SR 46 was rerouted for approximately 90 minutes before both lanes of travel were reopened.