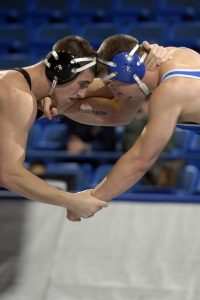 The Batesville High School wrestling started the 2019-2020 season hosting the Jennings County Panthers. Despite giving up 5 forfeits and being down by 30 points without any of the matches wrestled the Bulldogs won 6 out of the 8 matches wrestled. Despite the effort, they fell 42-36.
Senior Nick Nobbe started off with a pin at 170. Batesville would then drop 182 and 195 by pin before winning the rest of the matches. Sophomore Brandon Manning at 220 started the winning ways by earning his first varsity win by pin. After giving up two forfeits senior Caleb Bischoff-Niese would then get a pin with one second left in the first period at 120. Bulldogs would then give up 3 straight forfeits. Senior JT Linkel next got a pin at 145 to kick 3 straight pins. Sophomore Josh Mobley picked up a pin at 152. Senior Jonah Chase finished the meet with a pin at 160. Other bulldogs competing include Senior Axel Garcia at 182 and Freshman Aaron Norman at 195. Sophomore Jy'lil Chappel competed in a JV match.
Batesville enters the season with 19 wrestlers, but have many wrestlers coming off injuries and will be able to possibly fill 13 weight classes by the end of the season. Batesville will next travel to Madison on December 2nd.
Courtesy of Bulldogs Coach Curtis Miller.