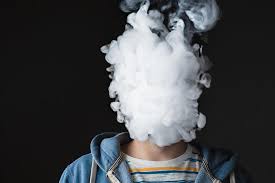 Statewide—The Indiana State Department of Health (ISDH) recently launched a public awareness campaign to educate youths about the dangers of e-cigarettes, or "vaping." The "Behind the Haze" campaign is part of a $2 million effort announced by Governor Eric J. Holcomb and State Health Commissioner Kris Box, M.D., FACOG, to reduce vaping among Indiana youth.
"The speed at which vaping is increasing among youth is alarming, and we must protect children from a lifetime of nicotine addiction," Governor Holcomb said. "These efforts will help curb youth vaping, educate the public on health risks and provide resources to help people who want to quit."
Dr. Box said the Indiana Youth Tobacco Survey found the use of e-cigarettes has increased more than 350 percent among Indiana middle and high school students since 2012, which makes public awareness a critical part of protecting young Hoosiers' health.