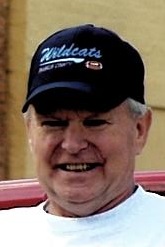 George E. Smith, of West Harrison, was born on March 1, 1947 in Hamilton, Ohio a son to Earle A. and Helen (Kraus) Smith.  He graduated from Purdue University and later completed his Master's in Education at Ball State.  He married Pat Finch on August 26, 1972 in Liberty and together they raised three children.  George taught for 43 ½ years in the Franklin County Community School Corporation and was very active in sports – coaching FC High School Softball for 10 years and Little League for 7 years.  He was a member and an FFA advisor for 13 years; served on the 4-H Fair Board for 20 years, and belonged to the Cattlemen's Association. George had numerous athletic awards and records from High School and was inducted into the Franklin County Athletic Hall of Fame in 2016.  He also received the Friend of Conservation Award and was an ISTAR Educator.  In his spare time he farmed, built pole barns and spent time with his grandkids.  On November 19, 2019 at the age of 72, George passed away at his residence surrounded by loved ones.
Those surviving who will honor George's memory include his wife of over 47 years, Pat Smith; daughters, Kizzandra (William) Becker, and Abigail (Daniel) Blair; one son, Andrew (Tosha) Smith; eight grandchildren, Lilly, Hayden, Aiden, and Aubrey Blair, Anne and Benjamin Becker, and Nolan and Grady Smith, all of West Harrison; two sisters, Delores (Charles) Mosier of West Harrison, and Donna (Ronald) Denham, of Seven Springs, NC; two aunts, Mary Portmess of Loveland, OH, and Dora Wilson of Lawrenceburg.  Besides his parents, he was preceded in death by several aunts and uncles.
Friends may visit with the family on Monday, November 25, 2019 from 4 until 8 p.m. at Cook Rosenberger Funeral Home, 929 Main Street, Brookville.  Services will be held at the funeral home on Tuesday at 10 a.m. with burial following in Maple Grove Cemetery.
Memorial contributions can be directed to Franklin County Athletic Department.  To sign the online guestbook or to leave personal memories please visit www.cookrosenberger.com.  The staff of Cook Rosenberger Funeral Home is honored to care for the family of George Smith.