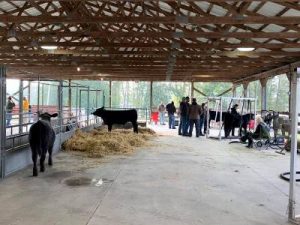 Rising Sun, IN—The Indiana State Department of Agriculture awarded more than $72,000 in grant funding to 18 projects designed to promote and increase the state's livestock sector.
"The livestock sector in Indiana is vital to our agriculture industry," said Lt. Governor Suzanne Crouch, Secretary of Agriculture and Rural Development. "The grants awarded today will help fund innovation and create new jobs, which will take Indiana's livestock to the Next Level and further strengthen our state's economy."
These matching grants were awarded to non-profit organizations, commissions, and associations who were eligible to receive a 50 percent match by the state. The funding can be used for promotional or market development purposes and projects were selected based on those that had the greatest impact on Indiana agriculture.
This years' projects fund a variety of proposals, from FFA chapters and the dairy sector, to livestock shows and animal workforce readiness programs.
Ohio County Fair Board was granted $2000 for the Ohio County Fair Preview Show.