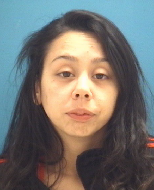 Columbus, IN—A Columbus woman was arrested for DUI after CPD officers stopped her car early Friday morning and observed her infant child in the vehicle. CPD officers observed a vehicle traveling left of the centerline on 25th Street nearly striking a curb at Hawcreek Boulevard.
Officers stopped the vehicle and noted the strong odor of marijuana while speaking to the driver, Lilly E. Hall, 19, of Columbus. Hall later failed several field sobriety tests that were administered to her. While searching Hall's vehicle, officers reportedly located marijuana inside a jacket she had been sitting on inside the car. The officers also located a small amount of marijuana inside a diaper bag in the back seat as well as a THC vape pen that was located near the center console.
Hall was transported to Columbus Regional Hospital for a blood draw. She was later placed under arrest. The Department of Child Services were requested and placed the 13-month-old child in the care of a family member. Hall was remanded to the Bartholomew County Jail and charged on allegations of Operating a Vehicle While Intoxicated with a Minor Present, Possession of Drug Paraphernalia, and Possession of Marijuana.