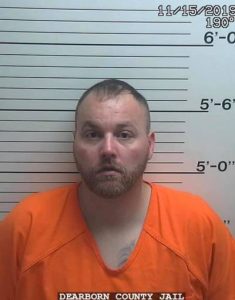 Lawrenceburg, IN—​Thursday, Lawrenceburg Police were dispatched to Strong's Pizzeria in regards to a male customer causing problems and yelling at employees. Dispatch advised the officers that the male, later identified as Joshua Richards, 37, of Houston, Texas had a gun out as well.
​When officers responded to the area, witnesses told the police that Richards was bragging about being from Texas, became disorderly and asked to leave the property. One witness stated that when Richards left the property, he walked to the trunk of his vehicle and was seen pulling a long object out of a case. Other witnesses stated that they did not see a gun, however, the male handled the object like a gun. As a result of his actions, numerous people were leaving the restaurant in fear and panic. Officers were unable to find Richards at that time.
​As officers were assisting patrons leaving the pizzeria, dispatch advised officers that a suspicious male was at an apartment building in Lawrenceburg and the male was swinging a gun around a silver passenger car. Upon officer's arrival, the male matching the description given by witnesses as Strong's Pizzeria was located and detained. This male was identified as Richards. His vehicle was located and officers observed a rifle and loose rifle ammunition near the center console area of his car.
​
When officers began speaking with Richards, he appeared intoxicated. Officers spoke with a witness, who stated that she went outside on break at her job and saw a male acting funny, and observed the male swinging a long gun and then pointed the gun at a building across the street and then pointed the gun toward herself and other employees.
​Richards was taken into custody and has been charged with Intimidation, (Drawing a Deadly Weapon), Pointing a Firearm, Theft, and Public Intoxication.