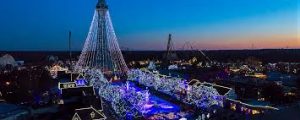 Mason, Ohio —Winterfest is back at Kings Island this season, bringing more than 5 million lights, nighttime rides, and blue hot chocolate.
This year's festival runs on select nights from Nov. 22 through Dec. 31 of this year. Tickets start at $27.99.
The amusement park is transformed into 10 enchanting winter wonderlands. With more than 5 million lights, and holiday characters will spread Christmas merriment, including Jack Frost, Candy Cane, and the Sugar Plum Fairy, as well as ice skating on the Royal Fountain and seeing the park's Eiffel Tower transformed into a 314-foot tall Christmas Tree.