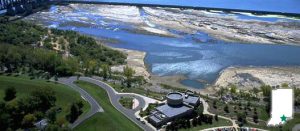 Clarksville, IN—An official ribbon cutting to celebrate the opening of the new PNC Music Garden at Falls of the Ohio State Park will be held at the park on Tuesday, Nov. 12, at 10 a.m.
The park will serve as host of the event. One Southern Indiana will lead the proceedings. The PNC Music Garden features outdoor musical instruments arranged in a circle in the grassy, tree-covered picnic area at the front entrance of the park. It was designed by Chris Fry from Play Pros of Kentucky and Indiana.
The Falls of the Ohio Foundation received a $49,958 grant from the PNC Foundation to build the PNC Music Garden. Receipt of this grant was facilitated by former Falls of the Ohio Foundation executive director Dani Cummins.
The Falls of the Ohio State Park Interpretive Center is open Monday-Saturday from 9 a.m.-5 p.m. and Sunday from 1-5 p.m. Admission fees are $9 for adults (age 12 and older) and $7 for children (ages 5-11). Children younger than age 5 are free.