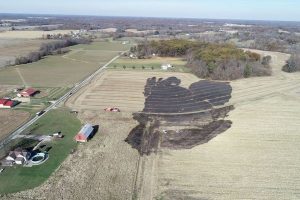 Deleware, IN—Sunday afternoon, a controlled agricultural burn turned into an uncontrolled field fire on the 6000 N. block of County Road 400 E in Ripley County. The wind was especially strong today, gusting to 18 MPH in Versailles at 12:50 this afternoon.
Ripley County EMA would like to remind you that while the county is no longer under a burn ban, openly burning any type of material, especially agricultural material, with high winds is dangerous.
They suggest waiting for a day and/or time when the wind is not high and also remember that open fires for agricultural purposes are particularly dangerous at night.
Agencies that responded to the fire include Delaware Fire Dept. Additional Mutual Aid was rendered by Milan Fire Department, Osgood Fire Department, and the Ripley County Sheriff's Department.
The Ripley County EMA also report that the Sunman Fire Department and Morris Fire Department also responded to a separate field fire in Franklin County today.