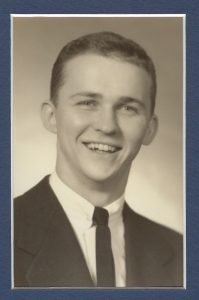 Donald Robert Steiner age 85 of Metamora, Indiana passed away peacefully at home on November 6, 2019 surrounded by his family.  The son of Robert R. and Florence Evelyn (nee: Nail) Steiner was born on December 5, 1933 in Bedford, Indiana.
Don graduated from Howe High School in Indianapolis, Indiana in 1952.  He attended Hanover College and earned his Bachelor of Arts in 1956.  He married the love of his life Alice Bowie on August 24, 1957 in Louisville, Kentucky.  The two then moved to post-war Germany while he served in the United States Army from 1957 to 1959.  After returning from the Army he attended Indiana University, Bloomington where he earned his Master of Arts in 1960.
Don's long career included 32 years at Indiana Institute of Technology in Fort Wayne, Indiana where he retired as Vice President of Facilities and he was awarded the Kekionga Feather Award twice.  He also served on the Panos Free Health Clinic, the Wells County Habitat Board, Hanover College Alumni Board, Ossian Presbyterian Church Board and served as a Trustee at St. John's United Church of Christ in Batesville.  He loved working alongside Alice in over 40 Habitat for Humanity builds.  He was a member of Sigma Chi Fraternity and the Ossian Indiana Lions Club where he served as president.  Although he kept very busy with work and volunteer commitments, he most of all enjoyed traveling with his wife Alice and spending time with his family, friends and neighbors.
He will be dearly missed by his wife, Alice Steiner; his children, Joyce Lynne Steiner (Kevin Leahy), Katharine Steiner Korn (Darren), and Robert James Steiner; grandchildren, Matthew Korn, Kyle Korn, Amanda Korn, Margaret Leahy and Catherine Leahy; and his brother, James N. (Marjorie) Steiner.
Memorials may be given to St. John's United Church of Christ, Batesville, Indiana.
A memorial service will be held Monday, November 18th at St. John's United Church of Christ in Batesville, Indiana at 11:00 AM. Place of burial will be Hanover Indiana Presbyterian Cemetery.
Meyers Funeral Home assisting the family.  Online condolences www.meyersfuneralhomes.com.