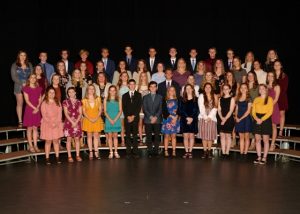 Batesville, IN—The National Honor Society is a prestigious organization comprised of high school juniors and seniors who exhibit accomplishments in the areas of scholarship, character, leadership, and service throughout their high school careers. The National Honor Society prides itself on being a student-lead organization centered on community service.
Members are required to maintain a minimum 3.81 cumulative GPA, complete twenty hours of community service per year, and participate in the organization's many projects. Their annual projects include but are not limited to, an ugly Christmas sweater contest, a "Send-a-Kiss" for Valentine's Day, and a Spring Ice Cream Social. The Batesville chapter recently held its annual induction ceremony on October 22. The organization currently has twenty-five senior members and recently welcomed twenty-six new junior and senior members at its 2019 induction ceremony.
The new inductees are: Katherine Bedel, Abigail Blomer, Katherine Brewer, Riley Callahan, Olivia Cerniglia, Sidney Dickman, Grace Eckstein, Nicole Fox, Anna Gerth, Grace Habig, Kylie Hammond, Aidan Jennewein, Rachel Kuntz, Kylie Laker, Elizabeth Loichinger, Faith Martin, Luke Nuhring, Paige Oldham, Lleyton Ratcliffe, Grace Sarringhaus, Kayla Stone, Laine Struewing, Taylor Townsley, Trysta Vierling, Nathaniel Villani, and Abigail Westerfeld. Senior members include: Erin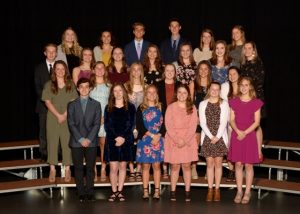 Batta, Ciera Belter, Samuel Bowman, Kierra Brock, Cadence Campbell, Elizabeth Cassidy, Joseph Cerniglia, Sydney Dieterlin, Mason Enneking, Lillian Esser, Seth Gausman, Elizabeth Heidlage, Caleb Huffmeyer, Charles Laymon, Nicholas Meer, Anna Moeller, Adam Moster, Macy Prickel, Kari Reer, Sarah Ronnebaum, Adam Scott, Vivian Shroder, Isabel Smith, Carlie Werner, and Lucas Wilson.