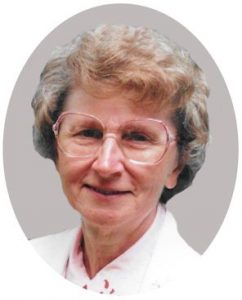 Sr. Ruth Breig, formerly Sr. Rose Michael, age 89 of the Sisters of St. Francis in Oldenburg, died Thursday, November 7, 2019 at the convent. Born Ruth Elaine on August 23, 1930 in Dayton, Ohio, the ninth of twelve girls, she is the daughter of Emma (Nee: Osterfeld) and John Breig.  Reflecting upon her childhood, Sr. Ruth noted, "Each of us had chores to do and each evening after dinner dishes were put away, we'd gather around the table to pray the rosary as our faith was very important to us.  With 12 girls in our family there obviously was some fussing among us, but there was a lot more love and laughter!"
The Breig sisters attended St. Anthony School in Dayton, where Sr. Ruth first met the Sisters of St. Francis and began to consider a religious vocation.  Later she graduated from Chaminade Julienne High School and left Dayton to enter the Franciscan community in Oldenburg as Sr. Rose Michael in 1948.  She continued her education at Marian University, Xavier University, and Ball State University.
She taught for nearly 50 years, an outstanding teacher in primary education at Catholic schools in Indiana and Ohio.  Those schools were Our Lady of Lourdes, St. Christopher, Little Flower, St. Pius X, and St. Simon in Indianapolis, Indiana; St. Joseph Nazareth and Our Lady of Perpetual Help in Cincinnati, Ohio; St. Mary in New Albany, Indiana; Holy Name in Beech Grove, Indiana; St. Ann in Hamilton, Ohio; St. Anthony in Dayton, Ohio; St. Louis in Batesville, Indiana and St. Mary in Rushville, Indiana.  Sr. Ruth then worked for three years in the office of the Central Indiana Council on Aging before returning to Oldenburg in 2000 where she served as a human resources assistant until her retirement in 2009.
An avid Cincinnati Reds fan, she enjoyed attending their games and watching them on T.V.  She also treasured gatherings with family and friends and remained in contact with many of the students she taught.  In reflecting on her years as a Franciscan, she commented, "The happiness and prayerfulness I saw within the Franciscans was a big factor in my choice of vocation.  I always felt God was guiding my direction and as a Franciscan I've enjoyed a life of happiness and prayerfulness."
She is survived by sisters Glenna Breig, Joan Ritzert, Rita Jane Wilhelm and Mary Ellen Giambrone.  She is preceded in death by her parents and sisters Anna Mae Edgar, Patricia Breig, Vera Breig, Norma Breig, Agnes Glaser, Betty Dickson, and Grace Storer.
Visitation is Wednesday, November 13th from 1-3 p.m. at the convent chapel. Funeral services will follow at 3 p.m. with Rev. James Meade officiating, with burial in the convent cemetery. Memorials may be made to the Sisters of St. Francis, P.O. Box 100, Oldenburg, Indiana, 47036 (www.OldenburgFranciscans.org).  For online condolences go to www.weigelfh.com.