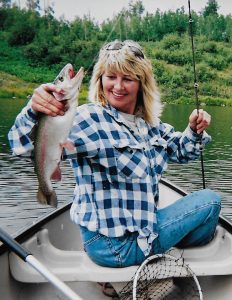 Edwina Kay (James) Lanphier 56, of Aurora, Indiana, passed away Thursday November 7, 2019 in Garfield Heights, Ohio.
She was born April 17, 1963 in Lawrenceburg, Indiana, daughter of the late Edwin "Freak" L. James Sr. and Amanda (Stamper) James.
She worked as a Camp Cook for Winter Hawk Outfitters and was a full time homemaker.
She was a member of the Aurora Eagles and Moose Auxiliary.
Edwina loved the outdoors, she enjoyed being in the fresh air and sunshine. In her younger days, she liked horseback riding. Edwina enjoyed hunting and cooking wild game, and she loved fishing. She loved her baby dogs, Scruffy and Mandy. Edwina enjoyed family time, especially time with her grandchildren.
Edwina is survived by her son, Adam (Lindsay) Heist of Greenfield, IN; siblings, Anita (Joe) Ritch of Aurora, IN, Bill Hizer of Indianapolis, IN., Edwin L. (Flo) James Jr. of Rising Sun, IN, Linda (Charles) Jenkins of Cleveland, OH,; grandchildren, Cooper & Harper Heist.  She was preceded in death by parents, and a sister, Ruth Payne.
Friends will be received Wednesday, November 13, 2019, 5:00 pm – 8:00 pm at the Rullman Hunger Funeral Home, 219 Mechanic Street, Aurora, Indiana.
Services will be held Thursday at 11:00 am with Pastor Charles Hill.  Interment will follow in the River View Cemetery, Aurora, Indiana.
Contributions may be made to PAWS. If unable to attend services, please call the funeral home office at (812) 926-1450 and we will notify the family of your donation with a card.
Visit: www.rullmans.com