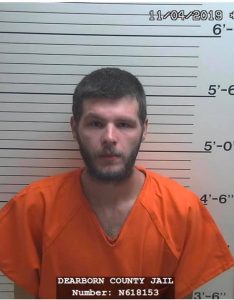 Greendale, IN—Theodore J. Green, 25, of Guilford, was charged in Dearborn Superior Court II on Wednesday on allegations of one Count of Bribery, Obstruction of Justice, Possession of a Controlled Substance, and Possession of Paraphernalia after he was observed giving $950 in cash to a Dearborn County Detective in an attempt to make a previously charged case "go away."
​On October 31, 2019, Green contacted Dearborn County Det. Carl Pieczonka via text message and offered Det. Pieczonka $3000 to make a case filed by another Dearborn County Sheriff's Deputy go away. On November 4, 2019, Det. Pieczonka arranged a meeting with Green in Greendale, with other officers from the Dearborn County Special Crimes Unit observing the meeting.
​At this meeting, Green gave $950 in cash to Det. Pieczonka, and was arrested by Deputies Adam Ziegler and Garret Rollins shortly thereafter. When arrested, he was also found to be in possession of a glass smoking pipe and had green plantlike material in his teeth. When questioned, Green informed officers that he had eaten a section of a Ziploc bag containing synthetic marijuana, or "spice".
​If convicted, Theodore Green faces a sentence of between 1 year and 6 years in the Indiana Department of Corrections on the Bribery Charge.
​Prosecutor Lynn Deddens thanked Detective Pieczonka, Dep. Rollins, and Dep. Ziegler for their work investigating this case. "My office takes any attempt to skirt the law through bribery seriously, and we will always prosecute those who attempt to bribe officers or other public officials," Deddens stated.