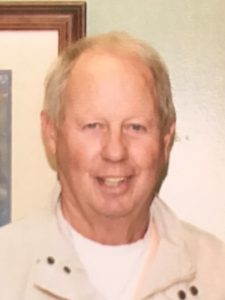 Daniel "Dan" A. Peters, of Harrison, Ohio passed away at home, surrounded by family, on October 27, 2019, at the age of 81. Dan was born in Cincinnati, Ohio on November 14, 1937 to Frank A. and Naomi (nee Loos) Peters. He graduated from Elder High School and joined the Marine Reserves, where he became an expert riflesman. Dan played semi-pro football with the Green Devils. He graduated from the University of Cincinnati with a bachelor degree in Architecture and minor in Civil Engineering. Dan started his career as a civil engineer for Messer Construction, where at the time, he was the youngest Project Manager in the company's history. At the age of 43, Dan left Messer to pursue his love of golf and became a PGA member. He was a golf professional at both Shawnee Lookout and Hidden Valley Golf Courses. He started in the golf business with The Golf Range (which was located at the current Green Acres Canoe Rental) and Miami Lakes Sports (with partner Tim Mittlehauser) in Miamitown. Dan went on to purchase Lakeside Golf Course, a nine hole course in Milan, Indiana, which he later developed into an 18 hole course and renamed Hoosier Links Golf Club. Dan was instrumental in bring men's and women's varsity golf back to the University of Cincinnati after a five year absence of the sport. From 1987-1988, Dan was the President of the Southern Ohio PGA, and was named Golf Pro of the Year in 2000. Over the years, he coordinated and ran numerous major golf tournaments throughout the Cincinnati area.
Those left to cherish his memory are his wife: Dianne C. Peters; his beloved daughters: Debbie (Rick) Shumate and Donna (Mike) Kinnett; grandchildren: Ethan and Braden Voss, Nick (Darah), Nathan (Corinne), and Lauren Stroud. Great granddaughter: Ella Fagan; as well as many nieces, nephews and cousins.
Dan is preceeded in death by his parents: Frank A. and Naomi Peters; his siblings: Naomi (Jim) Thomas and Joan (Charlie) Kuester.
Visitation will be held on Wednesday, November 6, 2019 from 10 am to the time of service at 12 pm at Church on Fire, Harrison, Ohio. Burial to follow at Miamitown Cemetery, Miamitown, Ohio. A Celebration of Life will follow the Cemetery at Kreimer's Bier Haus, in Miamitown from 2 PM-5 PM.
Memorials may be made to Church on Fire or Birdies for the Brave through the funeral home. You may bring your donation at the time of the visitation and a funeral home representative will be able to assist you.