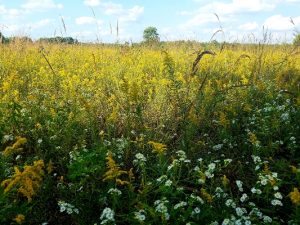 Versailles, IN—The public is invited to Versailles State Park on Nov. 9 for an open house celebrating Bradt Natural Area, a newly opened part of the park. The open house is from 1-4 p.m. and begins with comments from Dan Bortner, director of Indiana State Parks, and recognition of the Bradt family.
Clifty Falls State Park interpretive naturalist Kayla Leach will lead a guided hike at 1:30 p.m. Throughout the afternoon, guests can take a walk on their own, see ongoing displays of park history, learn about Bradt Natural Area trail planning, construction, and resource restoration work, and see live birds of prey up close with interpretive naturalist Leslie Grow from the Dwight Chamberlain Raptor Center at Hardy Lake.
Light refreshments will be provided during the event, courtesy of the Friends of Versailles State Park. The open house is outdoors, but displays and activities will be in a tent. Wear appropriate clothes and shoes for the weather.
This 80-acre addition to Versailles State Park was obtained in 2001 from the Bradt family, who had farmed it since 1906. Hale Bradt made a generous donation for development of a parking lot, trails, and interpretive signage. The area includes a small woodland, open meadows, and a constructed wetland. Active resource management will help maintain open habitat for pollinators and a variety of birds and other wildlife.
All activities will be held at Bradt Natural Area, which is located along U.S. 50, east of Versailles State Park's entrance. A parking lot is located on South County Road 300E near its intersection with U.S. 50. After the open house, the Bradt Natural Area will be open for hiking and wildlife observation. Although there is currently no gate, guests should be prepared to present an Indiana State Parks annual entrance pass or a current daily gate entrance receipt from Versailles State Park. Fishing is not permitted at the Bradt Natural Area, but is available at Versailles Lake inside the park.