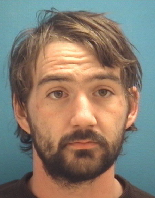 Columbus, IN—A Columbus man was arrested Friday after he reportedly stole money out of the cash register at Sirloin Stockade and knocked an elderly customer to the ground while fleeing the establishment.
The suspect, who was later identified, as Justin A. James, 29, of Columbus, approached a cashier and asked for change. A short time later, James reportedly reached into the register and took an undisclosed amount of currency. While fleeing the restaurant, James knocked an 87-year-old woman to the ground. The woman sustained a facial laceration, injured her wrist, and was transported to Columbus Regional Hospital for treatment.
On Friday evening, officers from the Columbus Police Department's Intelligence Led Policing Unit observed James inside a vehicle. With the assistance of the Bartholomew County Sheriff's Department, the vehicle was stopped in the 200 block of Chestnut Street and James was placed under arrest.
James was transported to the Bartholomew County Jail where he was remanded to their custody on allegations of Strong Arm Robbery, two counts of Battery, and two Bartholomew County Arrest Warrants.