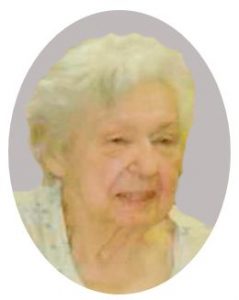 Helen D. Decker, age 88 of Batesville, died Thursday, October 31, 2019 at her home.  Born February 8, 1931 in Forestville, Connecticut, she is the daughter of Helen (Nee: Papak) and Wassil Moros.  She married Joseph Decker February 4, 1954 at Paris Island, South Carolina.  Helen served in the Marines during the Korean War and following the service spent her working career as a nurse.
An avid reader, she enjoyed other hobbies as well.  Quilting was a favorite and family members have pieces they'll cherish forever.  Helen also liked to paint using oils and mainly painted landscape scenes.  She also made crafts of all kinds.  Helen was one of the individuals who started the Country Store booth for the St. Louis Church annual picnic and provided countless items sold there over the years.
She is survived by daughters Teresa Huy, Susan Decker, both of Batesville; sons Paul Decker of Pinckney, Michigan, Pete Decker of Indianapolis; eight grandchildren and one great grandchild.  In addition to her husband and parents, she is also preceded in death by her son Andy; sisters Anna Brightman, Emma Genett and brother Pete Moros.
Visitation is Thursday, November 7th, from 4 – 7 p.m. at the Weigel Funeral Home.  Funeral services are 10 a.m. Friday, October 8th at St. Louis Church.  Burial will follow in the church cemetery with military graveside rites conducted by the Prell-Bland American Legion Post #271 and the Ripley County V.F.W. Post #3183.  The family requests memorials to the Srs. of St. Francis or the Ripley County Historical Society.