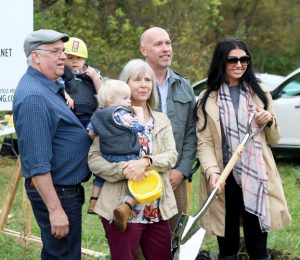 Brookville, IN—Thursday, the groundbreaking ceremony for the Cobblestone Inn and Suites was held in Brookville on the future site, located at 9135 US 101.
Jenny Wilz, Major investor of Cobbles Stone Inn and Suites stated that the venture was all started when Tourism conducted a feasibility study for the community to see if Brookville and Franklin County could support the need for a hotel and then an opportunity zone grant became available. This is when Jenny Wilz along with her husband Mick, of Brookville, started to express their interest in investing in a hotel for the town.
Cobblestone came for a visit to Brookville in January of 2019 to look for sights. The final site was not on the original list of sites for the hotel, but it became the perfect option according to Wilz.
According to Brian Wogernese, President and CEO of Cobblestone Hotels, the Brookville location will be a 2 story, 45 room facility. The entrance will be in the center of that facility. Other amenities will include overflow parking for boats, a gift shop for forgotten items, and a bar with hot breakfast daily. Currently, the hotel is slated to open in early July of 2020.