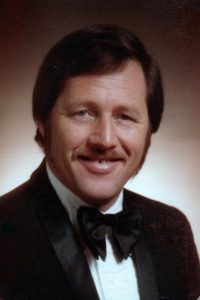 Lee L. Lynn, of Rushville, was born on June 16, 1940 in Maryville, TN, a son to James and Betty Buford Lynn.  Lee was a self employed sales rep. throughout his life.  He founded Lynn Electric Co. in 1969 and continued on with it until the early 80's.  Lee was the first Delaware County Building Commissioner and he also started several other businesses throughout his life.  He was a member of Chapel Missionary Baptist Church in Lakeview, a Mason at the Metamora Masonic Lodge #156, and a Shriner.  Lee loved to be around people, especially family and friends.  On Sunday, October 20, 2019, at the age of 79, Lee passed away peacefully at Ball Memorial Hospital in Muncie, Indiana.
Those surviving who will cherish Lee's memory include his son; Terry (fiancé Tracey Adams) of TN; one granddaughter, Nicole (Ryan) Wheeler of Peru, IN; three great-grandchildren, Cameron, Mason, and Sophie; two sisters, Margaret Maddok of St. Louis, MO and Jo Ann Goodman of Lakeland, FL; as well as several nieces and nephews.  Besides his parents, and stepmother Mary Lea, Lee was preceded in death by his wife, Sue Lynn; two brothers, Joe and Winston Lynn; three sisters, Jean McElhaney, Juanita Bumbalough, and Ruth Goforth; as well as several nephews.
Friends may visit with the family on Friday, October 25, 2019 from 5-8 p.m. and again from 10-11 a.m. Saturday morning at Cook Rosenberger Funeral Home, 929 Main Street, Brookville.  Funeral service will be conducted at 11 a.m. Saturday, October 26, 2019.  Burial will follow immediately in Metamora Cemetery.
Memorial contributions can be directed to the Shriner's Children or to the Metamora Masonic Lodge #156.  To sign the online guestbook or to leave a personal memory, please visit www.cookrosenberger.com.  The staff of Cook Rosenberger Funeral Home is honored to care for the family of Lee Lynn.