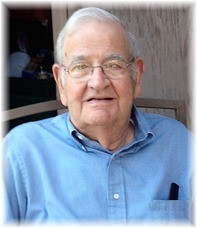 Irvin Louis Placke, age 95 of Batesville, Indiana passed away on Saturday, October 19, 2019 at St. Andrews Health Campus.  The son of Oscar and Lottie (nee: Belter) Placke was born on October 2, 1924 in Batesville.
The 1941 Batesville High School graduate married Lois Darling on March 30, 1946 in Newport, Kentucky.  During WWII Irvin served in the U.S. Army from 1943-1945 and was held as a wounded POW.  Irvin was a member of the VFW Post 3183 and the Prell-Brand American Legion Post 271.  As a member of St. John's United Church of Christ he enjoyed serving in many areas including: the Cemetery Board and Board Superintendent, the former president and member of the Men's Fellowship Group, Sunday School Board and served on Church Council 5 times.
Irvin worked for Home Outfitters in Batesville before beginning his career with the U.S. Post Office as a rural route carrier. He was known for his timeliness and went onto receive his Million Mile Accident Free Award. Through the years, Irvin could be found working in his yard, caring for his flowers and of course, rooting for his favorite baseball team, the St. Louis Cardinals.  Irvin was a loving husband, father and grandfather who will be dearly missed by his family.
He is survived by his son Jim (Velma) Placke of Batesville and daughter, Connie (Kim) Hayden of Greensburg; grandchildren, Kurt (Marla) Placke, Jamie (Erik) Arkenberg, Patrick Hayden and Brandon (Jill) Hayden; and great-grandchildren, Austin, Alexandria, Arison & Andon Hayden, Olivia Grace Hayden, Tyler Placke and Alexa Arkenberg.
In addition to his parents, he was preceded in death by his wife Lois, brother Richard Placke and sisters Florence Wessel and Viola Borchelt.
Visitation will be Wednesday, October 23, 2019 from 4-7pm and on Thursday from 10-10:30am at Meyers Funeral Home.  Funeral Services will be 11:00am on Thursday, October 24th at St. John's United Church of Christ in Batesville with the Rev. Joseph Feldmann officiating.  Burial will follow in the church cemetery with military honors immediately after by the Ripley County VFW Post 3183 and Prell-Brand American Legion Post 271.
Memorials may be given to St. John's UCC music fund or cemetery fund c/o the funeral home. Online condolences www.meyersfuneralhomes.com.