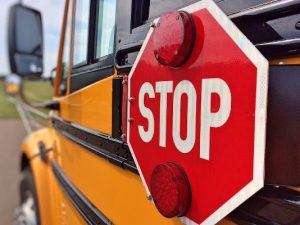 Batesville, IN—The Batesville Police Department is working with the Batesville School Corporation in following up with drivers who disregard school buses with the arm signal device extended. The violation is covered in Indiana Code 9-21-12-1 and is a Class A infraction but can be a Class A misdemeanor under Indiana Code 9-21-8-52.
Vehicles traveling from either direction must stop for a school bus with the arm signal extended when there is no physical barrier or median.
The Batesville Police Department and Batesville School Corporation want to ensure children are safe when on or near the roadway. If you witness a violation, call 911 if you can safely do so. If you call 911, dispatch will ask if you were able to obtain the following: the license plate number, vehicle description, driver description, and location. Any information you are safely able to obtain is helpful.