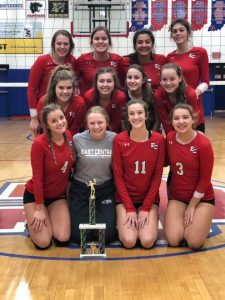 ECVB traveled to Union County for their annual invitational where we took home the championship for the 3rd consecutive year! We went 3-0 in pool play defeating Alexandria, Union County & Seton Catholic then faced Lawrenceburg in the championship.
EC vs. Alexandria
We opened the day against a scrappy Alexandria team. They gave us a good test first thing in the morning. They hustled and picked up a lot of what we were throwing at them so we had to continue to pursue the ball and refuse to quit. The girls started to gel a little bit with our new line up in this match. We did a better job at executing a faster offense and the girls pushed themselves every point. They did a great job at using this match as a stepping stone in the right direction for the postseason coming up Tuesday!
EC vs. Union County
We came in underestimating our opponent. We were going through the motions instead of pushing ourselves to prepare for the post-season. We did just enough to get by in this match and it is reflected on the scoreboard. The "a win is a win" phrase no longer applies at this stage in the game. We gave up too many points and didn't earn enough on our own terms. The girls fought and didn't quit, but we put ourselves in a situation we didn't have to be in. We have to be cleaner and more precise as we head into the postseason.
EC vs. Seton Catholic
We came out pretty fired up in this match after playing down against Union County. The girls worked on speeding up their offense and building the connection between setters and hitters. They pushed themselves and caught Seton off guard with the level they were performing at. The second game, we let up off the gas a little and Seton took advantage of it. It was a tight set most of the game, but the Lady Trojans were able to hold off Seton to secure the victory.
EC vs. Lawrenceburg
After going 3-0 in pool play and finishing first in our pool, we had to face Lawrenceburg for the third time this season for the championship. It is never easy beating a team three times in one season, but the girls were up for the challenge. They were fired up and full of energy! They started strong and didn't let up throughout the entire match. Both our offense and defense held their own and did their job. Many players stepped up and had a positive impact on the game, which is something we have struggled with as of late.
EC vs Lawrenceburg 10-12-19 (1)
Varsity is now 22-9 on the season, rounding out our 10th consecutive 20+ seasons!
Next up: round 1 of sectionals at Bloomington North vs Bloomington North at 7 pm Tuesday.
Courtesy of Trojans Coach Cassie Laker.
ECVB JV vs. Rushville.
Lost 2-1.
25-1, 19-25, 15-7
ECVB JV vs. Franklin County.
Win 2-0.
25-21, 25-21
ECVB vs. Lawrenceburg.
Lost 2-0.
25-20, 25-17
ECVB JV vs. Greensburg.
Lost 2-0.
25-21, 25-18
This past Saturday, The JV Lady Trojans traveled to Greensburg to compete in the EIAC JV Tournament. On the day the girls went 1-3. Injuries, low numbers, and young experience were all factors that did not play in our favor this season or on Saturday, but they were factors that taught the girls and me more than I ever thought one season could. Saturday did not result in the way we wanted it to, for no one wants to end their season with a losing day. Throughout the day there were many positives in the connections, communication, energy, and level of play the girls executed, but they played these positives in waves and we all know playing a game in waves does not benefit you in the end. With Rushville losing to Franklin County in the last game of pool play we landed as the 2nd place team in our pool and went on to compete against Greensburg in the final match of the day.
In the final match against Greensburg, it was very obvious that fatigue had set on both sides of the court. It was a long day of volleyball, especially for the younger girls. It took a lot to get the game moving and once it did we took the momentum at first but it didn't last long enough to bring success in set one. In set two, the girls knew it was a do or die situation and that it was up to them to determine how they wanted to finish their season. Even though the match ended in an 0-2 loss, and it was a frustrating day for the girls, I know they were trying to give most of what they could with the little they had left.
This season as a whole was a season of challenges, growth, patience, etc. As for being a young coach with even younger girls it was a rookie year for almost all of us. I am very thankful to have had such a goofy, outgoing, and dedicated group of girls in my first year of coaching. Many times the girls joked in saying they would be my "favorite" team I ever coached, but they most definitely will be a group I will never forget. Not only because they were my first team as a coach, but because they were one of my biggest challenges in life, in a good way. I am very proud of the younger ones who stepped up and filled shoes so quickly in such a disciplined program. I am very excited to see where their volleyball career takes them and I am excited to continue to coach them through!
ECVB JV ended their season 14-13….and 6-1 in the EIAC.

Courtesy of Trojans Coach Josie Andres.