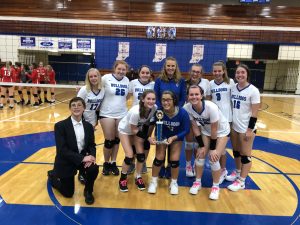 The Batesville JV Volleyball Team ended their season with a bang rattling off 9 consecutive wins including 4 on Saturday to capture the EIAC Championship trophy at Greensburg High School.
The team defeated South Dearborn 25-8, 25-18 in the opening match. Regina Gerstbauer hit 17 of 18 serves including 5 aces and added 10 assists from her setting position. Sydnee Schaefer connected on 10 of 11 serves earning 9 points including 6 aces and contributed 9 digs defensively. Shelby Westerfeld led the front row attack with 5 kills.
In the second match of the day, the Lady Dogs dropped Connersville in straight sets with scores of 25-14, 25-14. Gerstbauer earned 13 points in 17 attempts and also dished out 21 assists. Westerfeld led offensively with 9 kills, while Naia Bustinza and Sophie Lee chipped in with 5 each. Belle Westerfeld added 3 kills and a block. Schaefer was the leader on defense with 11 serve receives and 5 digs.
Greensburg was the next opponent in pool play and the Lady Dogs were up to the challenge once again winning 25-21, 25-17. Schaefer and Kaitlyn Sarringhaus paced the team with 8 perfect serves scoring 6 and 5 points respectively. Bustinza, Lee, and S. Westerfeld continued their aggressive net play with 4 kills each. Bustinza shored up the defense with an impressive 16 digs.
The 3 wins in pool play led them to the championship game in a rematch with the Lawrenceburg Lady Tigers. The team came out on top once again with scores of 25-16, 28-26. In the second set, the Lady Dogs never allowed the Lady Tigers to reach a match point and held on for the 2 set victory to claim the title. Sarringhaus scored 8 points including an ace in 12 attempts, while Schaefer added 6 points in 10 tries. S. Westerfeld and Sophie Lee were the top spikers earning 7 and 6 kills at the net. Lee put down the game winner. Bustinza was outstanding in the back row with 15 serve receives and 21 digs to help secure the win. The team's record was 20-7 overall and included Hauser, Ripley County Tourney, and EIAC tourney championship titles. Way to go, ladies! I am so proud of all of you!
Courtesy of Bulldogs Coach Shelly Prickel.