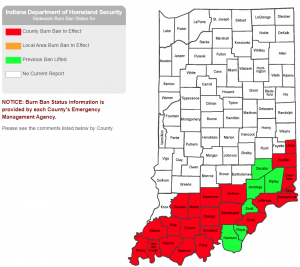 Greensburg, IN—During their meeting this morning, the Decatur County Commissioners have lifted the burn ban for Decatur County with specific points:
The burning of household trash is restricted by the Indiana Department of Environmental Management and no burning of trash should occur at any time.
Open burning within the Greensburg City is not permitted under City Ordinance.
Fireworks restrictions are lifted and Citizens must follow State Law for the use of fireworks. State law allows for the use of fireworks every day of the year from 9 am to 11 pm, with and extension to 12 am Midnight on Memorial Day, the Fourth of July, Labor Day, and New Year's Eve.
Without further continued rainfall the burn ban may be reinstituted as necessary.
Citizens and groups are encouraged to notify the respective Fire Department if they intend to have a large burn so that the responders are aware and may prevent any undue response from smoke in the area.
The Burn Ban for Franklin County has also been lifted by a decision from the Franklin County Commissioners. Jennings County lifted its burn ban over the weekend. No specific points were mentioned from either county.
There are still several counties under a burn ban in southeastern and southern Indiana due to drought. Visit www.in.gov/dhs/burnban/ to see if your county is under a ban.