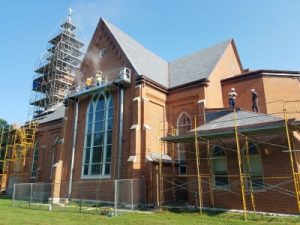 Brookville, IN—St. Michael Festival is being held today and tomorrow, Oct. 11 & 12 at St. Michael's in Brookville.
Friday October 11 the festival runs from 4:00p until 12:00a. A live band, 90 Proof Twang will play from 6:30- 10:30p. There will be draft beer, grill out ribeyes, and new this year, bingo on Friday.
Saturday, October 12, the festival will be open from 12:00p until 12:00a. A family-style chicken dinner will be served from 3:00 -7:00p in the climate-controlled gym. Cost for adult is $12 and children (9 & under) $6. Carryout is available 3:00 – 8:00p. The main raffle this year is a $7,500 Grand Prize. Ertel wines, silent auction, basket raffle, children's games, inflatables, yard sale, country store, beer garden, and flat-screen TVs with college football playing are all available for your entertainment needs! Saturday Mass will be held at 7p.
Also, new this year, you can bid on the silent auction items from home. Click here for a link to the silent auction.