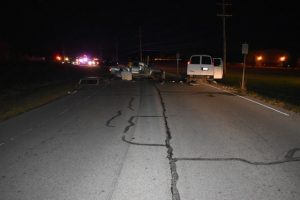 Madison, IN—Early Wednesday morning, the Indiana State Police responded to a two-vehicle head-on crash on Michigan Road near Dawson Smith Road in Jefferson County, Indiana that resulted in the death of a Dupont, Indiana man and seriously injured an Indiana Department of Corrections employee in the second vehicle.
The initial investigation by Troopers indicated a silver 2009 Toyota Tacoma being driven by Raymond S. Beagles, age 63, Dupont, Indiana was traveling northbound on Michigan Road when the vehicle crossed the centerline into the path of a southbound white 2011 Chevrolet van being driven by Padget Davis, age 51, Hanover, Indiana. The vehicles collided head-on in the southbound lane of Michigan Road.
As a result of the collision, Beagles sustained fatal injuries. He was pronounced deceased at the scene by the Jefferson County Coroner's Office. Davis sustained serious injuries in the collision and was airlifted to University of Louisville Hospital for treatment.
The Chevrolet van was owned by the Indiana Department of Corrections. Davis was on duty at the time of the crash. She was transporting a work release inmate back to the Madison Women's Correctional Facility from her job when the crash occurred. The inmate was transported to King's Daughters' Hospital in Madison, Indiana for treatment of minor injuries.
Investigators believe that Beagles had been consuming alcohol prior to the collision, which was a contributing factor to the crash. Investigators also believe that his speed was a contributing factor in the crash. Beagles was not restrained in the vehicle when the crash occurred.
Toxicology results are pending at this time. The investigation is ongoing. Beagles' family has been notified.