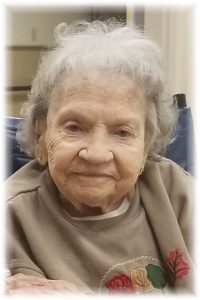 Frances Mullins, age 93 of Batesville, Indiana passed away on October 8, 2019 at the Waters of Batesville.  The daughter of Frank and Carrie Mullins was born on July 24, 1926.
Frances graduated from Christopher Gist High School. She married Harold Mullins on November 9, 1946 in Jenkins, Kentucky. Frances was a member of Hamilton Chapel in Pound, VA and was also a member in both the VFW Ladies Auxiliaries in Batesville and Pound.
Along with being a wife and mom Frances was known for her great cooking. She always baked the best pies.  Frances liked tending to her flowers when she had a garden and in later life just having them around. She also liked to crochet in her spare time.  She will be dearly missed by her family.
Frances is survived by her daughter, Sherri (Larry) Fehlinger of Batesville, IN; grandchildren Kimberly Krummel of Fishers, IN and Amy Hatcher of Berkley Springs, WV; along with six great grandchildren.
In addition to her parents and husband, Harold, she was preceded in death by her five siblings, Jack Mullins, Ruth Hughes, Eula Wise, Eugene Mullins and Ina Church.
Visitation will be Sunday, October 13, 2019 from 12:00 – 2:00pm with a funeral service to follow at 2:00pm all at Baker Funeral Home in Pound, VA.  Burial will be in the Meade Creek Cemetery in Pound, VA.
In lieu of flowers the family requests memorials to Margaret Mary Hospice.  Online condolences at www.meyersfuneralhomes.com.