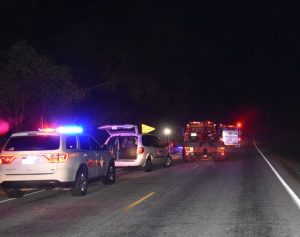 North Vernon, IN—Early Tuesday morning, the Indiana State Police investigated a single-vehicle crash on State Road 3 in Jennings County that claimed the life of both occupants.
The initial investigation by Troopers indicated that a gray 2005 Toyota Scion, being driven by David T. Seropian, age 20, Scottsburg, Indiana was traveling southbound on State Road 3 near County Road 650 South. The vehicle left the east side of the roadway before striking a tree and overturning.
As a result of the crash, Seropian was ejected from the vehicle and sustained fatal injuries in the collision. A passenger in Seropian's vehicle, Shaylla Jones, age 21, Scottsburg, Indiana also sustained fatal injuries in the collision. Both Seropian and Jones were pronounced deceased at the scene by the Jennings County Coroner's Office.
The investigation further indicated that Seropian may have swerved to avoid a deer that was in the roadway. Investigators believe that speed was also a contributing factor in the crash.
Alcohol is not believed to be a factor although toxicology results are pending at this time. The investigation is ongoing.The families of Seropian and Jones were both notified