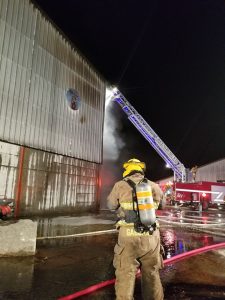 Letts, IN—According to the Letts Community Volunteer Fire Department, they were dispatched on Tuesday evening to the Hulsbosch Dairy Farm located on South County Road 700 West for a fire in one of the buildings.
Dispatch reported the fire was located in the feed barn. Assistant Chief Byron Baltus arrived to report a tractor on fire in the commodity building at the farm as well as reported fire to the roof and large bales of hay on fire inside the building.
The Letts Fire Department spent several days at the facility pre-planning the buildings and complex in case of an emergency this past summer. When it was determined a substantial fire existed, a county-wide all call was dispatched out for all available tankers. Firefighters worked quickly to extinguish the tractor then went to work on the big square bales of hay that was stacked approximately 40 feet high in the building.
The Dairy reports no one was injured and the cows are all doing well.
The Letts FD was assisted by the Westport FD, Burney-Clay Twp FD, Millhousen-Marion Twp FD, Greensburg FD, Adams FD, New Point FD, Clarksburg FD, St. Paul FD, Napoleon FD, City of Columbus FD with a Tower and Battalion, Decatur County EMS, Decatur County Sheriff, Decatur County Central Dispatch and employees of the Hulsbosch Dairy Farm.