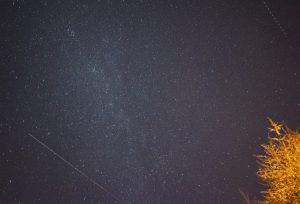 Statewide—Two meteor showers will peak on consecutive nights this week, including one known for bringing incredibly bright meteors known as fireballs.
The first is Draconid meteor shower, which will peak on Tuesday, Oct. 8 into Wednesday., Oct. 9.
The Draconids are considered a minor meteor shower with only around 10 meteors per hour but, on occasion, can fill the sky with hundreds of meteors. In 2018 observers in Europe counted over 140 meteors per hour.
An outburst like this is not expected in 2019. However, the Draconids are notorious for being unpredictable, so there is still a chance for a burst for an hour or two with much higher rates," Dave Samuhel, AccuWeather astronomy blogger and meteorologist, said.
Unlike most meteor showers that are best viewed during the second half of the night, the Draconids come in greatest numbers before midnight.
Unfortunately, the moon will be in the sky during this part of the night, so stargazers should look for meteors in areas of the sky away from the bright moon.
Immediately following the Draconids will be the Southern Taurids, the second meteor shower to peak in as many nights. It will peak Wednesday, Oct. 9 into Thursday, Oct. 10.
Similar to the Draconids, the Southern Taurids are a minor shower with fewer than 10 meteors per hour, but don't let the slim numbers discourage you. They are described as rich fireballs
Fireballs are meteors that appear incredibly bright as they streak through the sky. They can be so bright that they can cast shadows on the ground for several seconds.